Nasia S. Koumoukeli
Ophthalmic Surgeon-cataract and glaucoma specialist
Dr. Koumoukeli after having earned a consultant job and reached the top of the ladder of the British National Health Service, where she trained and worked for eight years, returned to Greece aiming primarily to offer the skills, knowledge and experience that she gained abroad to Greek patients!
Ophthalmology was the specialty of choice for Dr. Koumoukeli. The route was fascinating: she started her training in Ophthalmology at the General Hospital of Tripoli, her birthplace, and continued at the General Hospital of Patras "Agios Andreas" and in 2011 she obtained the European Board of Ophthalmology Diploma following examinations in Paris. She then moved to Great Britain for eight years, where she gained valuable experience and specialized knowledge through fully funded training jobs in top ophthalmology hospitals, distinguished for their training programs:
She trained for two years on the surgical management of glaucoma (glaucoma fellow) with modern safe trabeculectomy with releasable internal sutures, Ahmed and Baerveldt valves for advanced glaucoma as well as with laser trabeculoplasty and innovative minimally invasive glaucoma surgery (istent, Xen) for early glaucoma at the University Hospitals of Leicester and Nottingham, in the United Kingdom. After completing her two-year fellowship training, she was offered a job as glaucoma consultant in Nottingham Queens Medical Centre for one year where she was also supervising ophthalmology trainees in theatres and clinics.
She obtained fellowship training for one year in London in cataract surgery (cataract fellow) at Moorfields Eye Hospital, the top ophthalmology hospital in Europe. There, she gained vast experience in the surgical management of cataract of all grades of difficulty with phacoemulsification as well as with Femtosecond Laser.
She also obtained medical retina fellowship training for two years in London at Western Eye Hospital and St. Thomas Hospital where she gained great experience in treating diabetic retinopathy and macular degeneration.
Dr. Koumoukeli 's significant experience and deep knowledge of ophthalmology can help patients take advantage of the latest technological and scientific developments in Ophthalmology and benefit from innovative therapies even for diseases, such as glaucoma, that are considered to be very difficult to treat successfully.
Our vision is the most advanced care for your vision
Why choose Dr. Koumoukeli
"I love Ophthalmology and practice it with great passion and dedication. I am fascinated by the new, innovative diagnostic and therapeutic possibilities offered by technology nowadays to ophthalmology. That was the purpose of my training for many years in centers of excellence in the UK in order to be able to offer these possibilities to my patients."
"I treat my patients with honesty and I build relationships of trust with them. I discuss with them all the risks and benefits of each therapeutic choice and we decide together the safest and most beneficial option for them."
"I care about my patients' vision and their quality of life because good vision can contribute to good quality of life. I believe in preventing, improving, treating and make these three ideas the basic philosophy of my everyday medical practice."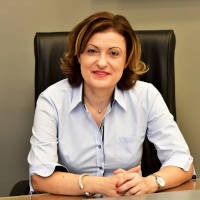 YOUR VISION IS MY MISSION